Poster for Collectors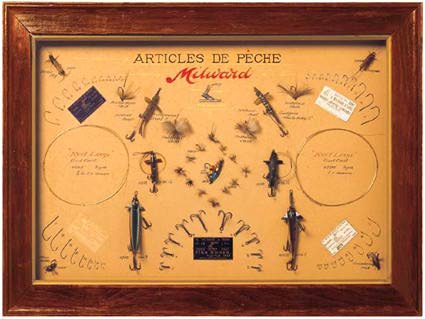 Milward's Fishing Tackle Frame
Colonel Henry Milward was a fervent fly angler who decided to mix business with pleasure when he created Milward's Fishing Tackle Company as part of his centuries-old needle-factory. A dozen workers left needle- and syringe-making to become experts in hooks, flies, devons, spoons and split-cane rods. This remarkable adventure lasted until 1965, when Milward died.
Milward, alongside Allcock, Partridge, Wilkins, Lee, Martinez & Bird and J.W. Young was just one of many tackle manufacturers located in Redditch, just south of Birmingham -
"Home of the Early Tackle Makers".
Fisherman's Paradise is particularly proud to have saved Milward's Fishing Tackle Frame from oblivion. This gem from the past is now available to fishermen worldwide.
Discover the Forge Mill Museum and the Redditch brands.
50 x 70 cm life-size poster printed on de luxe 250 gr ivory Ideal Mat paper.

Price: £30 including transport within the EU. US $42 (add $5 for transport outside the EU).

A sneak preview of our next production:
To contact us, for orders:
Fred at Fisherman's Paradise,
Rue de Belle-Vue, 28 - 1000 Brussels Belgium
Tel: +32/2/649.37.07.
Fax: +32/2/649.03.10.
E-mail : fred.dawlat@skynet.be