The small town of Redditch, just south of Birmingham, is the cradle of the needle industry. Over the centuries it has witnessed the birth of countless fishing tackle brands .
The Forge Mill Museum recounts the tale of these brands. Along with the Hardy museum in Alnwick, it is one of the museums that interests anglers most.
The museum is housed in an old mill in the valley of the Arrow. Although most of the museum is devoted to needles, it also boasts treasures for those interested in old tackle. Most of the brands have now disappeared, but some, such J.W. Young or Partridge of Redditch, continue the tradition.
Fascinated by the beauty of these objects and their link with the town's history, the museum's director, Gillian Wilson, is currently preparing new displays of this remarkable heritage.
Any information or documents you might have concerning the Redditch brands are most welcome. Contact Gillian Wilson or Jo-Ann Gloger at the Museum, or Fred at the Royal Casting Club of Belgium.
The Redditch brands.
S. Allcock & Sons, J. Holt Schooling, Top Tackle, W.M. Bartleet, J.M. Grahame, Helical Casting Reel & Co., Lee, Martinez & Bird, Milward Bartleet, George Moore, Edgar Sealey, Noris Shakespeare, Milward, Shakespeare, Albert Smith, George Wilkins & Sons, William Woodfield, Wyers Freers, J.W. Young & Sons, Martin James, A.E. Rudge & Sons, J.Warner & Sons, Partridge of Redditch.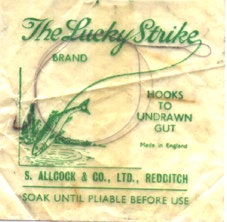 (Photo Fisherman's Paradise)
The Forge Mill Museum of Redditch
Needle Mill Lane,
Redditch - Worcestershire
B98 8HY - U.K. Tel : +44/1/527/62509.